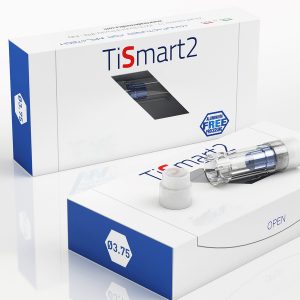 The TiSmart2 implants, Cold Plasma decontaminated, are packed in the clean room under a laminar flow hood and then sterilized by Beta Rays.
The implant is kept in a colored titanium O-ring that identifies the diameter and facilitates its removal, avoiding contact with the plastic vial walls. The cap screw on the vial bottom can be easily removed by gently pressing the screwdriver whose conical tip "locks" the screw.
TiSmart2 implants are Mountless designed.
The implant is picked up by the practical friction-cone coupling device both manual and for contra-angle that makes implant removal easy after inserting it in the site.
Traditional systems equipped with a mounter need screwdrivers and wrenches that are often difficult to use, especially in reduced mesial/molar spaces or with difficult patients.
The TiSmart2 System is packed inside a thin carboard box with a transparent window that allows one to verify, thanks to the color code, the diameter of the implant. The practical tear off strip facilitates the removal of the blister that contains the sterile vial. Inside, there are the adhesive stickers to put on the patient's chart and on the implant passport to be delivered to the patient. The passport gives the batch number as well as the diameter and the height of the inserted implant. The package also contains an instructional leaflet with photos that show how to safely remove the implant from the sterile vial.